Our Story
The Company was founded by Phillip H. McNeill, Jr. and Mark Ricketts, second-generation hoteliers and the sons of industry pioneers and early Hampton Inn developers Phillip McNeill, Sr. and Tom Ricketts. In prior respective roles as Executive Vice President and Vice President of Asset Management, McNeill Jr. and Ricketts oversaw the growth of the publicly-traded Equity Inns (NYSE:ENN) portfolio during the 1990s and early 2000s prior to its $2.2 billion going-private sale in 2007. After filling senior executive positions at Goldman Sachs, McNeill Jr. and Ricketts partnered to establish McNeill in 2014. In the little more than seven years following, the pair have grown McNeill to a portfolio of quality properties located across targeted secondary markets in several southeast and central states.

Today, McNeill is vertically integrated ownership and management platform with most hotel operations functions being overseen by a team of in-house industry veterans with experience across a range of brands and leading independent management companies. In its short history, the platform's 24 hotels have won dozens of franchise awards and routinely outperform their peers in market share and guest satisfaction scoring.
Then and Now
A Leader in Hotel Management.
McNeill Hotel Company was built on a foundation of trust, pursuit of excellence and making a difference in whatever we do. The company's founders, 2nd generation hoteliers Phillip McNeill, Jr and Mark Ricketts, have set the tone for our core philosophy of "People Serving People" - be it our guests, our investors, our team members, or our brand partners. As a result, servant leadership truly defines our company culture.

The Executive Team at McNeill Hotel Company has hundreds of years of combined experience in the hospitality sector, encompassing nearly every discipline of the business. We focus on select service and extended stay properties in select markets, with a special focus on smaller MSAs with colleges, universities, medical centers and complementary businesses. Within these markets, our growth strategy is based on a mix of new hotel development, meaningful acquisitions, and third-party management agreements. We are approved franchisees for Hilton, Marriott, and Hyatt.

Part of the McNeill family of companies. For more information about the services provided by our affiliates see McNeill Investment Group's Website.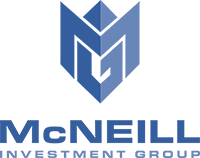 Our Mission
Commitment to Service Excellence: We value our associates, our guests, our business partners, and the heart of hospitality.
Commitment to Our Associates / Respect: We value servant leadership and strive to provide an engaging work environment with opportunities for personal and professional growth. We are committed to Diversity and Equality.
Commitment to our Guests and Business Partners: We are dedicated to delivering memorable guest experiences and exceeding the expectations of our guests. We build solid relationships with our business partners and strive to deliver financial success for our investors.
ESG: Environmental, Social, and Governance
Environmental: We value our environment and are committed to improving our climate footprint.
Social: McNeill Hotel Company is focused on business practices that positively impact our employees and the communities we serve.
Governance: McNeill Hotel Company is focused on People Serving People. Doing the right thing for our guests, employees, and investors is a priority for our company.